Friday, February 25, 2005
Big Changes Coming....

...over at Americans For Rice.com, our 527 group around which Team Condi will be built. Coming are some boffo shirts, of course (can't wait to get mine; I'll finally have an excuse to lose weight!). But of greater import is the bulletin board system that is being set up by the webmaster to facilitate communication among Rice people across the United States.

A concious attempt to ape Joe Trippi. Credit where credit is due: we bow to the Master, even if he is a Democrat.

Meantime, this picture got splashed across the front page of Yesterday's Washington Post: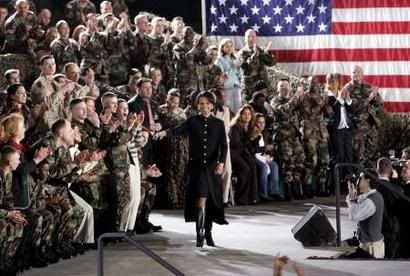 Good Golly, Miss Molly!
Anyway, one blogger called this photo, "Condi Enters the Matrix". Looks like Condi has decided to take after Keanu Reeves. Seems fine to me. As long as she doesn't do the Morpheus thing with her hair.

Oh, and let's see as little of Agent Smith as possible.

Meantime, the fashion editor of the WaPo, Robin Givhan, had an estrogen explosion in reaction to Condi's Wiesbaden homage to cyberpunk. Money freakin' graph:

Rice's coat and boots speak of sex and power -- such a volatile combination, and one that in political circles rarely leads to anything but scandal. When looking at the image of Rice in Wiesbaden, the mind searches for ways to put it all into context. It turns to fiction, to caricature. To shadowy daydreams. Dominatrix! It is as though sex and power can only co-exist in a fantasy. When a woman combines them in the real world, stubborn stereotypes have her power devolving into a form that is purely sexual.
Next thing you know she'll be penning love sonnets to the Secretary.
Only one thing to be said: Jesus tap-dancing Christ.
Paging Agent Smith......